Why do we need to enlist the rock climbing community to monitor the air quality of public lands…? Because no one else seems to be bothering.
In the middle of 2018 emails between the US Department of the Interior and members of the Energy lobby made it clear that the reduction in Bears Ears National Monument and Grand Staircase Escalante National Monument were driven by the desire to mine for coal, gas, oil and uranium. Assuming the inevitable future that mining will take place in this region, I wanted to provide a tool that would allow local outdoor communities to have more agency and understanding over what was happening on the land and monitor the environmental effects of the mining operations.
One of the main players in this issue is the outdoor recreation industry. As it happens there is a pretty large overlap between where the climbing spots are and the proposed mining locations area. Much of the activities that they promote and sell equipment for happens on public lands. So when the government takes some of that land away, there is a strong backlash from the industry.
This was Patagonia's splash page at the time of reduction. They are taking a hardline approach to the issue and the environmental effects of the mining operations. They doing a good job about education and awareness as well as donating money to environmental groups
Which is why I am proposing a collaboration between these three companies, so they can leverage their expertise and customer base for the betterment of the land.
Black diamond would be responsible for manufacturing the hardware
This is a sensor that would operate like a piece of climbing gear. Just like every other piece of hardware, it would attach the a climbers harness.
Sata would then be collected by the Mountain Project App
The app is the most popular forum and guidebook for climbers. It allows you to manually check off the climbs you have done and add notes.
With the GPS data from the sensor, it would let you track your approaches and climbs automatically. Giving you a comprehensive collection of the climbs you did on a trip.
You could then see what kind of air quality readings you were collecting during that time.
That data would then be compiled with other users to create a more complete and hyper local understanding of the air quality in a region.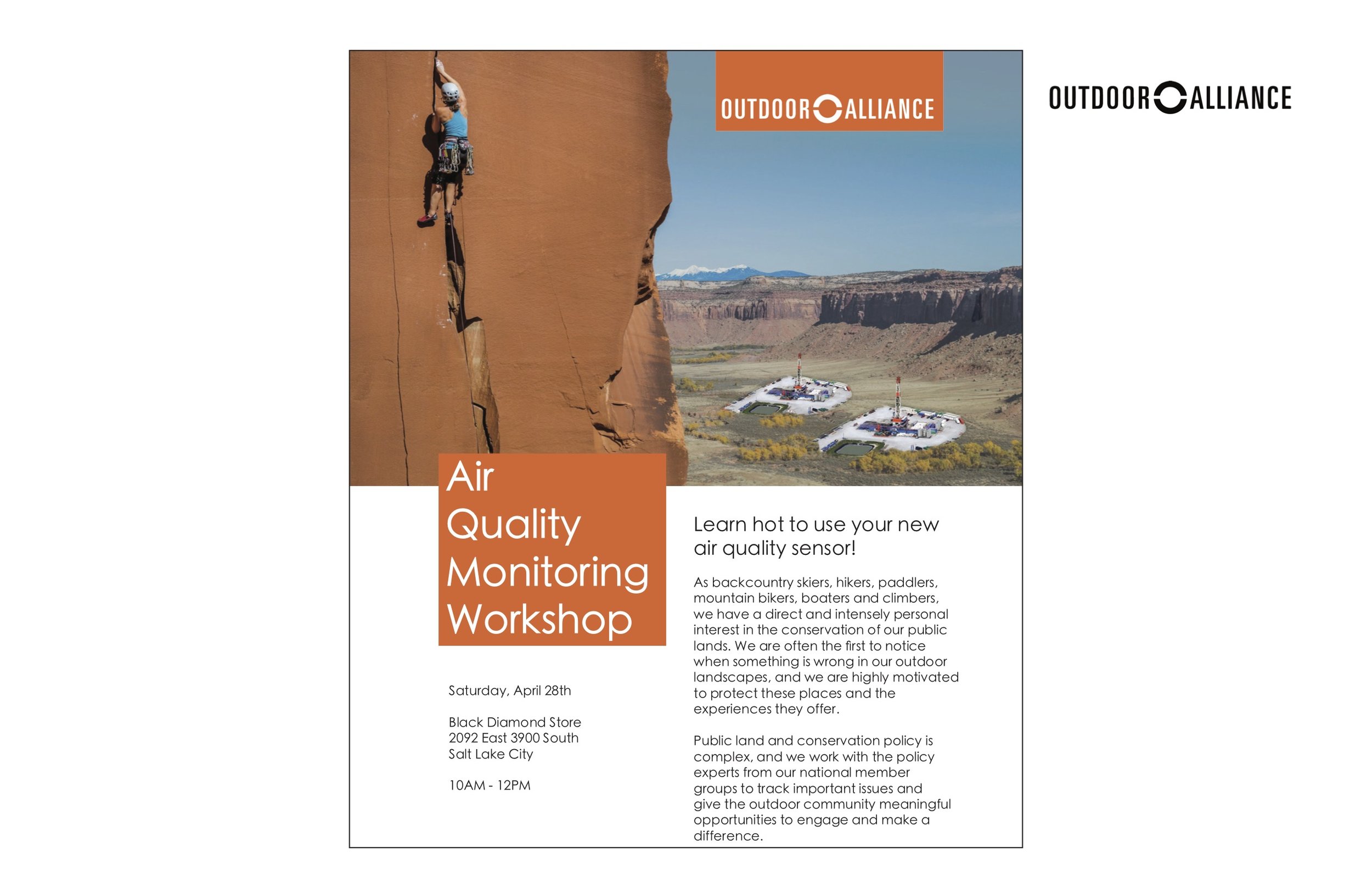 The mission of the Outdoor Alliance is to "Empowering You to Protect the Outdoor Places You Love"
This data collection is a way that allows outdoor users be empowered in a more tangible way, beyond just donating money or signing a petition.
Outdoor Alliance and other activist groups could hold workshops and help distribute these sensors to the outdoor community. They would be a point of education and awareness.
This group would then have evidence to support their arguments when they take part in court cases to protect public lands.